A History of Ryde – Books Available Now!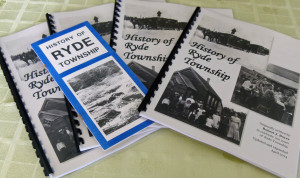 In 1979 for the Ryde Centennial, Robert J. Boyer, former MPP and local historian, wrote a 17 page 4″x 9″ booklet entitled "History of Ryde Township".  Many copies of that booklet can still be found in homes in and beyond Ryde, a precious memento of days gone by.
For our Ryde 135 celebrations, that booklet has been revised and updated to add information from the last 35 years and includes over 150 pictures (many more than 100 years old), twelve map segments, copies of 15 historical newspaper clippings, and some original material.  It includes brief glimpses into the lives of 28 of Ryde's founding families.  It is an 8.5 x 11 inch 60-page document printed on high quality paper with front and back card stock covers protected by plastic covers on both sides and secured with a Cerlox binding. This is a fund-raising initiative by the Ryde 135 Anniversary Committee.  The price is $20 cash; sorry no debit or charge cards can be accepted.
Copies are available at Summerland Store, or by calling Janet Merkley705-687-1679, Louise Taverner 705-687-2401, Carol Fraser 705-684-9459, Jennie Nice 705-687-5234, Judy Campbell 705-687-2406, or Carol Wagg 705-687-6992.  Copies will also be available on August 16th.