The Ryder for April 2015
Happy Easter
We wish each of you a very Happy Easter! A reminder that programs will not be held on April 6th, Easter Monday. Regular Monday programing will resume the following week.
---
Ryde Surf and Turf! Saturday, April 25 at 5:30
This month Chef Larry is preparing something extra special for us; a steak and salmon dining experience! This is a fundraiser for the Co-op. There is no tastier way to show your support for our own "Place to Be". Get your tickets before April 24th at Summerland Store.
Note: No tickets will be sold after Thursday, April 24th and none will be sold at the door. Members $20 Non-members $25
---
Arts in Ryde
We would like to hear from RCC members who would be interested in being part of a committee whose purpose will be to promote Arts in Ryde (AIR).  We know there are a lot of talented artists and craftspeople who live in Ryde. If you would like to become members of this RCC sub-committee, please call Don & Jo Warren 705-205-1555 or email Don and Jo.
---
Quilts Needed for Boat and Heritage Display!
Are you the proud owner of a Ryde heritage quilt? The Ryde Community Co-op has been offered a wonderful opportunity to share our history with visitors to Gravenhurst. In conjunction with a display of our barn quilts, the Boat and Heritage Museum (Grace and Speed) would like to promote an exhibit of our lovely traditional quilts, as previously displayed in the Ryde Centennial Free Methodist Church during our Doors Open/135 celebration last summer. Here is a chance to show our PRyde in Ryde! The Museum staff will professionally display all of the quilts, so that no harm will come to them. The exhibit will be on from May 15th until August 15th. If you would consider generously offering the loan of one or more quilts, please contact Judy at 705-687-2406.
---
WISE Clubhouse for Seniors
Please note that the District of Muskoka is revamping the WISE Clubhouses. Our friend Sandra is stepping down from leadership, and there will be a new model, led by Lindsay Lima. The program will include a free lunch. Your input is invited to shape the direction that future clubhouses will take. Bring your ideas on Friday, April 10 12:30-2:30! For more information call Lindsay at 705-645-4488 ext. 444.
---
Free VON Home at Last Program
The VON offers a wonderful service for seniors who have been admitted to hospital or have visited the emergency department. This includes hospitals in Muskoka, Simcoe, York Region and Toronto. Through a self-referral to the hospital's discharge planner or nursing staff, accompanied transportation can be provided free. This service can include picking up groceries and prescriptions, care of a Personal Support Worker, meal preparation and bathing. For more information please call the VON at 705-737-5044 ext. 223 or 800-565-4145 ext. 223. Pamphlets are available at the Co-op.
---
Ryde Co-op Membership
As of this Ryder, the Co-op has 151 paid up members. Our goal this year is to break 200. We came close last year with 190 members at the end of December. Please remember that your memberships are valid from January to December of each calendar year. If you haven't had a chance to renew this year, it isn't too late. Forms are available at Summerland, the Co-op and can also be downloaded from the Co-op website or here: Membership Application Form
---
Sunday Soup and Sandwich Lunch
Chef Larry invites you to join him at the Co-op after church on Sunday, April 12th for a soup and sandwich lunch for only $5. These small lunches are going to be offered once per month over the winter as a way to extend your after church socializing opportunity for an hour or so. See you at 12:15 for lunch! Why not stay for the Blending Teas and Tinctures workshop following lunch?
---
Seniors Community Advisor Corner
We are looking to arrange for a speaker in May to address issues of fraud and how seniors can protect themselves. Location, date and time will be posted in next month's Ryder. Let us know If you have any suggestions for speakers. Please contact us if you are seeking information on services available to seniors. Joan Clifford 705-687-3505 or Susan Ward  705-687-4553.
---
April Fresh Food Baskets
If you would like to participate in this popular program, the fee is $20 cash per basket. There is at least a $30 value in these boxes. Please pay at the Summerland General Store before Tuesday, April 7, with the pick up on Thursday, April 16. Thanks to everybody who supports this program, but especially Ron and Carrie! Get your downloadable schedule here: Food Basket Poster
---
Sustainability Workshops – Sundays in April
This month we wrap up our Sustainable Living workshops with two exciting hands-on workshops. Please register in advance by calling Judy at 705-687-2406. Note: All Workshops are for adults only: $15 for members, $25 for non-members
---
April 12th ~ Blending Teas and Tinctures
Noted herbalist Penelope Beaudrow welcomes us to the wonderful world of herbs!  First we will cover the whirlwind history of tea and learn how to know quality, how to grow, how to pick, how to blend, proper storage, tea preparation and different types of tea (white, green, black, yellow, red, chai, scented and herbal). Learn about extracting essential plant properties through various methods; teas, tinctures, vinegars and oils with hands-on blending of tinctures and teas, with some of their simple uses.  Learn tricks to creating your own inexpensive blends at home. After the lecture you will go home with the confidence to blend and prepare your own teas.  Join us and let Penelope introduce you to your new favourite cup of tea!  Everyone will go home with some tea samples.
---
April 26th~ Making More Soap
Welcome back Jonathan Bullock for a second session on soap making. This class is suitable both for beginners and those who took the previous class. There is an additional materials fee, but you will take home your own pure, natural, custom soap. For safety reasons (we will work with lye), you will need eye protection, rubber gloves and a mold, such as bread or muffin pans that will not be used for cooking.
---
Upcoming Events
Bid Euchre – Every Wednesday at the RCC from 1 pm.
VON SMART Exercise program – Every Monday & Wednesday starting at 9:30 am.
WISE Seniors' Clubhouse – April 10th from 12:30 – 2:30 pm. $3/person
Tai Chi and Qigong – Thursdays – 10:30 – 11:30 am – $2
Internet Café Biweekly – April 20th – 10:30 – 1:30 pm – $2
Surf & Turf – Apr. 25th – 5:30 pm – $20 Members Tickets will be available at Summerland at the beginning of April.
Soup and Sandwich Lunch – April 12th – 12:15 – 1:15 pm. $5 at the door.
Sustainability Workshop "Blending Teas & Tinctures" with Penelope Beaudrow – Apr; 12th 1 to 3 pm. Advance registration required – 705-687-2406
Sustainability Workshop "Making Soap 2" – with Jonathan Bullock Apr. 26th 1 to 3 pm. Advance registration required – 705-687-2406
Blackfly Tea/Brunch – May 10th
AGM & Ham Dinner – May 30th – 5:30 pm – $10 members.
---
The Ryder was brought to you this month by:
Ryde Systems
Please click image to enlarge.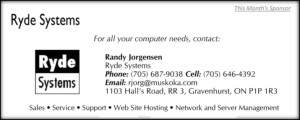 ---