The Ryder for December 2014
Happy Holidays Ryde!
The Co-op will be closed from December 17th until January 5th when regular programming will resume. We are anticipating having plumbing work done on the Co-op at this time. In the New Year, there may be some interruption to regular programming as we are going to be scheduling repairs and renovation, which may result in programs being temporarily moved to different days or postponed. Your program leaders will keep you informed. We will also post this on Facebook and the Co-op website as soon as the dates are confirmed. We are very excited to be getting this work done!
---
Sunday Soup and Sandwich Lunch
Chef Larry invites you to join him at the Co-op after church on Sunday, December 7th for a soup and sandwich lunch for only $5. These small lunches are going to be offered once per month over the winter as a way to extend your after church socializing opportunity for an hour or so. See you at 12:15 for lunch!
---
It's Membership Time!
As 2014 is coming to a close, we are very pleased to announce that the Co-op has seen a great increase in membership over the last year. We are ending this year with just over 190 members – a number we hope to see go over the 200 mark for 2015!
Your membership in the Ryde Co-op is significant as well as encouraging. It is a message to the Co-op Board of Directors that we are doing things that are engaging our community and that the Co-op is valued enough to support.
Our community has supported the Co-op well this past year making it possible for badly needed kitchen updates to begin. Because of the support from fundraising, grants and benefactors, improvements to our kitchen facilities have already begun. More improvements to the kitchen, gathering rooms and the washrooms are scheduled as we move forward in 2015.
Membership numbers also provide confirmation to the Town of Gravenhurst, as well as the District of Muskoka, showing our community is involved and serious about recreational and educational services being provided in Ryde. Sometime in 2015, we expect that we will begin dialogues with the Town regarding the renewal of the Co-op's lease and the membership numbers have an important role.
Our yearly $10 membership fee is a modest one. If you participate in our programs or you support having local and community based programming, please take the time to renew your membership or join the Ryde Co-op using the form below. We thank you for your ongoing support!
Click image to enlarge.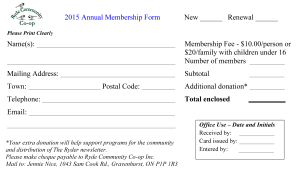 ---
Tips From Our Fire Department
Are you prepared should an emergency such as a severe winter storm occur in Ryde? Emergency preparedness begins in the home and everyone should be prepared with an Emergency Survival Kit that will get you and your loved ones through the first 72 hours of an emergency. An emergency kit should be prepared well in advance.  Examples of items to include in your "kit" are:
a sufficient supply of clean drinking water – at least two litres of water per person per day;
a supply of non-perishable food such as dried and canned foods;
a manual can opener;
a means to cook food without electricity;
any special needs such as medications, eye glasses, pet food, other pet supplies, etc.;
wind up or battery powered flashlights and radio;
extra blankets;
a first aid kit
cash and important papers.
If you had to evacuate your home for any reason, have you pre-planned this with friends or relatives who could provide temporary accommodations? Also, if you use a generator, is it in proper working condition? (Generators should never be used in an enclosed area such as a garage… they can be a source of dangerous carbon monoxide.) For more information, please call the Gravenhurst Fire Department at 705-687-3414! Remember, hoping for the best is NOT a plan.
---
Christmas Luncheon
A Ryde holiday tradition – a special guest has been known to appear! Chef Larry and his helper elves will prepare a special luncheon for us. Tickets will be available at Summerland General Store and at the door if available on the day of the luncheon. Please note the date has been changed to December 16th. Doors will open at 11:30 am and lunch will be served at noon. Members price: $10/person or $25/family with children under 13 years of age. Children under 5 eat free.
---
Need A Last-minute Gift?
There is still a limited number of History of Ryde books and DVD sets available, but supplies are running low.  They might make suitable Christmas gifts for the history lover in the family. Available from Summerland Store, Janet Merkley at 705-687-1679, and at the Gypsy Market Mews across from the Opera House in Gravenhurst.  For a preview/trailer of the DVD, click on the History Tab at the Ryde Barn Quilt Trail website.
---
 

New Co-op Benches
Have you noticed the two fabulous benches in the Co-op? Steve Bean and John Havenaar have been busy working with the lumber that Richard Break milled from the storm-damaged trees last year. They make a wonderful addition to the Co-op and provide a place for people to sit while dealing with winter boots! Thank you John and Steve! Limited workspace has prevented Steve from accepting offers of help from others who have volunteered but don't you worry, he has plans for more projects in 2015 and will be happy for more help when the work can be done outside.
---
 

The Sponsor of the Month
The Donkey's Shack and Feed Store
Please click image to enlarge.