The Ryder for January 2017
A New Year … New Adventures!
Your Co-op is dancing into the New Year by celebrating its first birthday of ownership of the building. Help us celebrate by getting your tickets for our first ever dance at the Gravenhurst Legion! Tickets are available at Scotiabank, who once again will be matching the ticket price of $35. The dance will feature live music by Cruise 'n Country and a buffet meal, complete with birthday cake! The dance will be held Saturday, January 21st from 7 pm until midnight, with a buffet lasagna dinner served at 7:30. There will be door prizes and a 50/50 draw. All proceeds will benefit our building fund. Attend the dance worry free: a bus will be available to take you from the Co-op and back for only $5. Call Judy at 705-687-2406 to reserve a seat on the bus.
---
Call for Committee Members:
As you know, we are an entirely volunteer-run organization. We are very proud of what we have been able to accomplish over the years, including purchasing our building, running successful Heritage Days, bringing in new programs, lobbying for our residents and creating our beautiful Barn Quilt Trail. Our strength is in our generous and hard-working volunteers. Will you consider joining our ranks this year?
We have a minimum of two openings on our Board. We have an exciting year ahead with some responsibilities and opportunities. We are always alert to grant and funding agencies that will benefit us, we need to update our bylaws, and we look to growth planning. Where will the future take us? Step up and serve and be part of the process!
Canada's 150/Heritage Day Committee
This is a big year for our country! We need to make our Heritage Day celebration extra special. Will you consider joining our Heritage Day Committee this year?
We rely on our Building Committee team to keep everything moving along and functional at the Co-op. It a solid building, but needs some updates. If you are a hands-on person with some expertise in maintenance, please consider joining this committee.
Now that we have our lottery license, we can apply to run raffles and 50/50 draws. This is a great opportunity to raise money for targeted projects: a new roof? Windows? We are allowed to raise 50% towards a capital improvement through lotteries. A small group took on the organization of the recent fundraising dinner that raised over $2500! We know that we have many talented and creative people out there. We can't wait to hear your ideas!
If you are interested in joining any or all of these committees, please contact any Board member.
---
 

WISE Clubhouse for Seniors
The District of Muskoka's WISE Clubhouse for Seniors is generally held on the first Friday of each month. Pay Attention to Keep Safe presented by Danielle
The goal of this class is to discuss the importance of planning ahead and avoiding taking risks. Key information covered in previous units will also be reviewed. Please call Emily at 705-645-2412 ext. 199.
---
 SMART and Tai Chi
Make your New Year's Resolution to come on out and join our fitness classes. These are offered by trained volunteers and provide not only a great workout, but a social time as well.
---
Upcoming Events
Bid Euchre – Every Wednesday at the RCC from 1 pm.
VON SMART Exercise program – Every Monday & Wednesday starting at 9:30 am. Note: in the event of school bus cancellations, there will be no SMART classes held that day.
Tai Chi and Qigong – Thursdays – 10:30 – 11:30 am – $2
WISE Seniors' Clubhouse – Jan. 6th from 12:30 – 2:30 pm. Free lunch will be provided.
Ryde Knitters and Hookers – Fridays at Summerland – 10 am – $2
Ryde's Birthday Bash Dinner and Dance – Jan. 21st starting at 7 pm at the Gravenhurst Legion. Tickets $35 – available at Scotiabank in Gravenhurst from Jan. 3rd until Jan. 19th.


---
Community Notices

Holy Manger Anglican Church
January 8th at 1 pm and thereafter from February to end of April the 1st Sunday of each month at 1 pm.
Summerland General Store
The January monthly $20 food basket order is due in cash on Jan. 3rd at 9 am and picked up on Jan. 12th. Bring boxes or bags. Download schedule here: http://bit.ly/1zYziH2


---
The Ryder was brought to you this month by:
Great Moose Adventures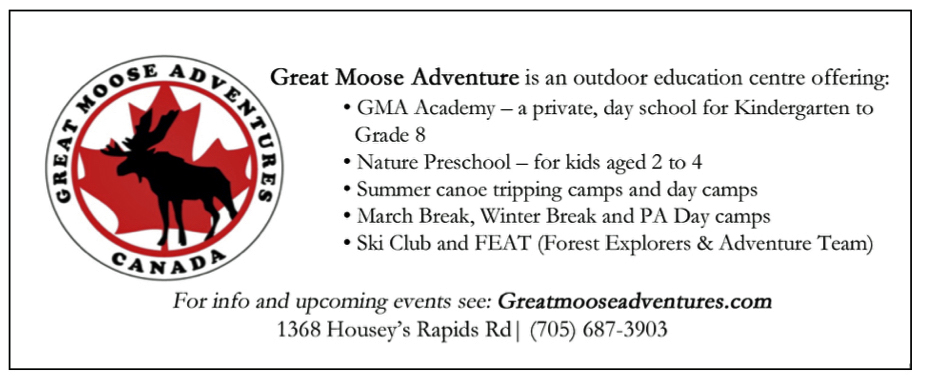 Please click image to enlarge
.
.