The Ryder for July 2015
Ryde Dinners and Dinner Tickets
Have you wondered why the Ryde Co-op sells tickets ahead of time for dinners instead of just at the door? We now boast a membership list of 217! This represents a 10% growth over last year! We are also experiencing the same rate of growth in attendance at our dinners. That means we have to make a few changes so that we don't have send any more people away at the door. Last weekend we had sold all 50 of our dinner tickets before the event and some of you were disappointed at the door when we had to turn you away.
We have a remedy for this. We can make 10 – 15 more seats available by setting up a second room up for dinner, and by having more tickets available for sale. Most of our dinners require tickets purchased ahead of time. The tickets are sold in advance so we know how many dinners we will need to prepare. On occasion we may have a very few tickets left to sell at the door but if you wait until then to purchase, you may be disappointed.
Grocery shopping and meal preparations begin on Friday mornings at the latest. We estimate meals needed based on ticket sales made by Thursday evening. You can help us by purchasing or reserving your ticket early. While we always prepare a little extra, we do not want to make a great deal more food than we are actually going to serve. For example, if 30 tickets have been sold on a Thursday evening, we may estimate 40 dinners. If we only make 40 dinners, we cannot admit 50 people for a meal.
Tickets are made available at Summerland General Store at least a week before a scheduled dinner. You can call ahead and reserve a ticket if getting to the store is a problem. We can arrange for you to pick up and pay for your ticket at the door as long as it has been reserved. A reminder as well, that a member's price for a meal is usually going to be less than a non-member. The exceptions are only when the meal is intended to be a community event.
---
 Call for Members – Ryde Capital Building Committee
The Ryde Board of Directors is excited about our new Business Plan. We want to lose no time in implementing the recommendations. Do you have expertise in building and construction? We need your help to develop a long-term plan for the Co-op building's sustainability. It is hoped that the committee will have representation from the Co-op's membership, as well as representation from Town of Gravenhurst councilors, and District of Muskoka. Meetings will be held monthly as needed. Please call Judy at 705-687-2406 or email campsoup@bell.net.
---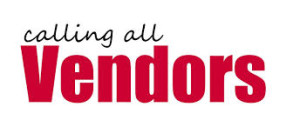 Vendors Wanted for Heritage Day, August 15th
Do you have a craft that you would like to sell at our Heritage Day in August? We are looking for vendors who would be interested in having a booth that day. The fee is $25. You will be responsible for your own set-up and power will not be available. If you are interested, please contact Judy Campbell at 705-687-2406 for more information and an application form or, download an application form by clicking here.
---
 Beautiful New Tables
Co-op members Steve Bean and John Havenaar have been busy again creating these beautiful serving carts using wood salvaged from trees that were blown down a few years ago. Richard Break milled it all at the time and left us with a great assortment of lumber for John and Steve to play with. Chef Larry was able to make great use of them at the strawberry dinner!
---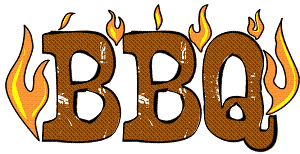 July BBQ and Council Meeting
July 21st is the date of the Co-op's annual BBQ and Gravenhurst Council meeting. The BBQ will begin at 5:30 pm and the Council meeting will begin at 7 pm. No tickets are required for this meal and all members of the community are invited to attend. Tickets for the BBQ are $10 per adult and $5 for children under 12.
---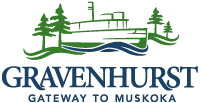 The Daisy Awards are Coming!
The Gravenhurst Daisy Award recognizes residents, businesses and groups whose outstanding efforts have produced beautiful front yard gardens or landscapes that contribute to a more attractive neighbourhood and community.
You are encouraged to nominate any front yard gardens or landscapes visible from the road, that you feel have added to the sense of pride that you have for Gravenhurst. Forms can be found at the Town Office, Centennial Centre, Muskoka Lakes Gardens & More and Home Hardware Garden Centre. As well, you can submit online at by clicking here. Nominations will be accepted until Friday, July 10th, 2015.
---
 Update on the Ryde Community Vegetable Garden
The Community Garden will be taking a rest and going fallow this year, so that the garden committee can devote its time to other weighty matters. It has been decided to plant a cover crop of buckwheat to nourish the bee population. Thanks to Sterling Cooper, who prepared the ground, and who will plough the buckwheat under in the fall so that it will be ready for next year's bumper crop of potatoes! We could use volunteers to help keep the flower beds looking their best though.
---

 WISE Clubhouse for Seniors
The District of Muskoka's W.I.S.E. Clubhouses will be continuing with Lindsay Lima (Seniors Wellness Outreach Coordinator). Please join us for friendship, laughter and a free lunch!
Friday July 10th at 12:30 summer picnic at the Co-op if the weather cooperates.
*No Clubhouse in August—but the Seniors Community Advisor program will continue
Friday September 4th at 12:30 pm. Topic: Immunizations as We Age
Friday October 9th at 12:30pm. Topic: Falls Prevention
Friday November 6th at 12:30 pm. Topic: Home maintenance and kitchen safety. For more information call Lindsay at 705-645-4488 ext. 444. If you are seeking information on services available to seniors, please contact Joan Clifford at 705-687-3505 or Susan Ward at 705-687-4553.


---
 July Fresh Food Baskets
The cost of groceries keeps going up. Thank goodness that we can take advantage of the Fresh Food Basket program, with excellent value in a $20 box. Please pay in cash, at the Summerland General Store before Tuesday, July 7th, with the pick up on Thursday, July 13th. Thanks to everybody who supports this program, but especially Ron and Carrie! For a downloadable schedule, please click here.
---
 Ryde Heritage Quilt Display at Muskoka Boat and Heritage Centre – Now until August 9th
Thank you very much to all of the heritage quilt owners who have generously agreed to loan their family treasures to the Boat and Heritage Centre. Make sure that you don't miss the exhibit of hand-made unique quilts that celebrate Ryde heritage and complement our beautiful barn quilts. Our next show is in Huntsville at the Summit Centre which begins on August 19th.
---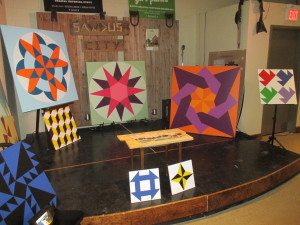 Ryde Barn Quilts
On display for Art Crawl June 27th in Gravenhurst. A preview of the new designs being prepared for the Summit Centre Show in Huntsville this August.
---
 Community Notices
Holy Manger Anglican Church
Services will be held on the first and third Sunday of each month at 1 pm.
Ryde Free Methodist Church
The Fri. night Youth Group meetings, and 10:00 am Sunday School time are now over until Sept. 11:00 am Sunday Services continue, with the exception of July 26, when we close for Severn Bridge Family Camp Sunday.
Summerland General Store
The June monthly $20 food basket order is due in cash July 7th at 9 am and picked up on July 13th. Bring boxes or bags.
Ivan & Louise Speicher's 50th Anniversary Celebration
Please join us in our celebration of our 50th Wedding Anniversary on July 19th, 2015 at the Gravenhurst Legion Branch 302 from 2 to 5 pm.


---
 Upcoming Events
Note: Soup and Sandwich Lunch will return in November
Bid Euchre – Every Wednesday at the RCC from 1 pm.
VON SMART Exercise program – Every Monday & Wednesday starting at 9:30 am.
Ryde Heritage Quilt Display at Muskoka Boat & Heritage Centre – May 15th to Aug. 9th
Tai Chi and Qigong – Thursdays – 10:30 – 11:30 am – $2
Internet Café Biweekly – June 29th, July 13th & 27th – 10:30 – 1:30 pm – $2
WISE Seniors' Clubhouse – July 10th – 12:30 – 2:30 pm. Summer picnic, weather permitting.
BBQ & Council Meeting – July 21st – BBQ starting at 5:30 pm (no ticket required) – meeting at 7 pm
Gravenhurst Daisy Awards – July 23rd.
Ryde Heritage Day – Aug. 15th – 10 am to 4 pm
Ryde Display at the Summit Centre in Huntsville – Aug. 19th to Nov. 17th
Ryde Culture Days Reception at Summit Centre – Sept. 25th 4 – 6 pm
Meet The Needs Day #III – Oct. 15th


---
 The Ryder was brought to you this month by:
Terry Pilger, ReMax
Please click image to enlarge.