The Ryder for June 2016
Mobile Health Hub Discontinued in Ryde
The Co-op has been advised that the Mobile Health Hub has stopped coming to Ryde as of May 26th. The Mobile Health Hub was established for the purpose of bringing primary care through a Nurse Practitioner to communities across Muskoka and our community demonstrated a very low need for this. Residents or individuals who require a primary care provider can still call the Mobile Health Hub (1-866-545-0811) and book an appointment to see the Nurse Practitioner (Jen) in Severn Bridge every Wednesday or Vankoughnet every Thursday between 9 am and 3:30 pm, OR call the Cottage Country Family Health Team in Gravenhurst (705-687-2271) to book an appointment with the Nurse Practitioner (Heather) who is accepting new patients. Opportunities for health and wellness education sessions of interest to our community are being discussed with the District of Muskoka Health Link and we hope to see these scheduled in the future at the Co-op.
---
 Renovations Are Underway!
You may have noticed all the activity at the Co-op … Changes are happening, thanks to an Accessibility Grant we obtained to upgrade the entrance and washrooms. The Co-op will be closed and there will be no access to the building until the renovations are completed. If you need something from the building, please contact a Director for assistance as due to insurance regulations, the workmen can not grant you access.
---
 

Garage Sale – Thank You!!
What a wonderful response we had for our Fund-raising Garage Sale! Once again our community pulled together with donations, (including delicious home-baked goods), help with setting up and cleaning up and lots of eager shoppers! We raised over $1000 for the Ryde to the Future campaign. Thanks everyone!
Thanks to all our Ryde Co-op Volunteers!
Our volunteers are at work again! Thanks to Janis Ryan and Diane Duffy for delicious desserts for the Ham Dinner; to Sterling Cooper for plowing the community garden; to Bruce Stephenson, Ivan Speicher, Doug Campbell, Judy Campbell and Rick Nice for gutting the washrooms and hallway in preparation for the renovation and to the Ryde Centennial Free Methodist Church for hosting our programs during the renovation period. We are a community working together!
---
 

Make An Investment in Community!
Donate to our Co-op to help us reach our goals! You can also help by holding an event to raise donations. Your donations help us to provide our community with a place to gather, learn, stay fit and have fun! Every bit counts. Every bit appreciated.
---
Good News!
The Ryde Co-op has been awarded New Horizons for Seniors funding in the amount of $600 for the purchase of a data projector. This device will enable us to expand our programming and make information more accessible to all of our members. We thank the Government of Canada for their support.
---
Strawberry Dinner!
Chefs Larry and Anne will be cooking up a wonderful dinner with a strawberry theme on June 25th . Only 40 tickets will be available. Tickets can be reserved ahead or purchased at Summerland General Store until Thursday, June 23rd. Members $10, non-members $15. Remember to bring your dishes, cutlery and cups!
---
June Fresh Food Baskets
Take advantage of the Fresh Food Basket program offered through the District of Muskoka with the support of Carrie and Ron at the Summerland Store. Please drop off your $20 (cash only) to the Blue Store before 10 am on Tuesday, June 7th. Pick up will be on Thursday, June 16th. For a downloadable calendar please click here: Fresh Food Basket Ryde 2015-2016
---
WISE Clubhouse for Seniors – June 3rd at FM Church
Note the change in location for two weeks this month only due to renovations at the Co-op. The District of Muskoka provides us with this great free program with a healthy lunch included. Join us for this educational program in a relaxed and social setting. This month the Healthy Aging Series continues with a session on Brain Health. Lunch is included! If you have any questions or suggestions for speakers, please contact Lindsay at 705-645-4488 ext. 444.
---
VON SMART Fitness Classes – Monday & Wednesday at FM Church
Note the change in location for two weeks this month only due to renovations at the Co-op. Our friendly group of active seniors always welcomes new members. SMART is a balanced and tested, safe and effective program that gets results! Free for those 55 and over thanks to funding from the local LHIN and the VON, and sponsored by the Ryde Co-op.
---
Heritage Day Is Coming!
Our third annual Heritage Day is coming up on Saturday, August 20th. Your Heritage Day Committee is planning another fabulous day of events, live music, displays, vendors and food. We can't hold this free event without the help of our amazing volunteers. If you can set aside a couple of hours to help, please call Judy at 705-687-2406.
---
The Daisy Awards are Coming!
Let's make sure that once again, Ryde will be well represented when the Town of Gravenhurst's Daisy Awards are presented. This program recognizes property owners who have beautified their front yards with glorious gardens. In the case of waterfront properties, the judges will be looking for shorelines that follow sound ecological practices in maintaining buffer zones.
---
NEW DATE – AGM – June 18th        
The 2016 AGM will be held this year on Saturday, June 18th at 7 pm. Give some thought to becoming more involved with the operation of the Co-op this year. We are looking for committee members as well as people to serve on the Board of Directors. The Co-op works because people get involved – we need your participation for continued success. Please save the date and plan on joining us. Light refreshments will be served.
---
Upcoming Events
Note: The Co-op will be closed from May 30th – June 13th for renovations. * Fitness, Tai Chi & WISE will be held at Ryde Free Methodist Church during the renovations.
Bid Euchre – Every Wednesday at the RCC from 1 pm.
* VON SMART Exercise program – Every Monday & Wednesday starting at 9:30 am.
* Tai Chi and Qigong – Thursdays – 10:30 – 11:30 am – $2
* WISE Seniors' Clubhouse – June 3rd from 12:30 – 2:30 pm. Free lunch will be provided.
AGM – June 18th starting at 7 pm. Light refreshments provided.
Spring into Summer Art Crawl Saturday, June 25th. Join us at the Opera House for a display of Ryde art.
Strawberry Dinner – June 25th – dinner promptly at 5:30 pm. Tickets required. Available at Summerland until June 23rd.
Heritage Day – Aug. 20th – Volunteer help needed!


---
Community Notices

Holy Manger Anglican Church
Services will be held on the first & third Sunday of each month at 1 pm
Ryde Free Methodist Church
June 4, 8:30 AMA work bee is scheduled to help tidy the Cooper's Falls Free Methodist Cemetery.  Bring your gloves, hats, outdoor tools, water, and possibly a bag lunch.  Don't forget the bug spray.
June 11, 4:40 PM:  Family BBQ at the church.  Mr. Rusty Draper, speaker; Mr. Bruce Stephenson will share his nature slides.
July 10, 2:30 PM:  Annual Memorial Service in memory of those buried at Cooper's Falls Free Methodist Cemetery.  Please let others know who might have loved ones buried there.  The offering will go towards the maintenance of the grounds.
July 15-24:  Severn Bridge Free Methodist Family Camp is on.  Activities for all.  Bible study mornings, evening services, meals available on the grounds or bring your own.  Camping available.  Please see their website for information.
Summerland General Store
The June monthly $20 food basket order is due in cash on June 7th at 9 am and picked up on June 16th. Bring boxes or bags.


---
The Ryder was brought to you this month by:
North Base Enterprises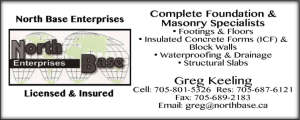 Please click image to enlarge
---
Paid Advertisement



Please click image to enlarge
.