The Ryder for November 2016
Capital Fundraising Campaign – Member Meeting
We are very pleased to announce that Ryde Co-op has received Charitable Status from the Canada Revenue Agency. We can now issue tax receipts for your generous donations to the Ryde Co-op. As you know, we have a hefty loan repayment coming due in January. The community came together to make history a year ago, when the membership voted overwhelmingly in favour of purchasing the building. We knew this would entail added expense and responsibilities. Will you step up to get us over this hump? The Board would like to provide details and answer questions about our finances at a membership meeting on November 23rd at 7 pm.
---
 

Facebook On-line Auction
We will be holding an on-line auction from November 12th  – 26th.
We are looking for donations of quality items, such as collectables, one of a kind, etc. Pictures of the items will be posted on a Facebook page for bidding during the auction. Please email photos of your donation(s) to Diane Duffy at  or contact her for more information.
---
Soup and Sandwich Lunch/Christmas Bazaar/Canada 150 Celebration Garden!
We have Sunday, November 13 all planned for you! Right after church, join us for the first of the season's Soup and Sandwich lunches. Lunch is only $5 and no advance tickets are required. We will ask you to step outside and pose for a picture by the Muriel Fitchett Memorial Garden at 1, then please shop at our very first Christmas bazaar. Santa's helpers have been busy crafting and creating wonderful items for your gift list.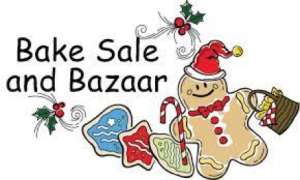 All proceeds go to the Ryde to the Future campaign, so invite your friends and neighbours!
---
November Fundraising Dinner
This is the extra special dinner that you have been waiting for! Our talented chefs and sous chefs are putting together a special menu for our fund-raising effort November 19th at 5:30 pm. 40 tickets will be available at a cost of $35. The Scotiabank in Gravenhurst will be selling these tickets for us and generously matching the price of every ticket sold! Don't miss out on a fabulous evening, and a chance to help us Ryde to the Future. Tickets will be available starting the week of October 31st until November 16th.
---
Ryde's Fundraising – Bottle Drive
Our hard-working building committee has come up with an idea to bring us revenue. On Saturday, November 26, from 9 until noon, bring your empty and sorted beer and LCBO bottles to the Co-op, where the building committee will take them off your hands and convert them to much needed funds. Start saving those empties now! We don't have storage at the Co-op, so please hang on to them until our collection date, or as several people have done, take your empties back and donate the money. So far we have raised $191.70! Thanks to Barb, Marilyn, Jim and Rob T. and his neighbours for generous donations. If necessary, pick-up can be arranged on that date. Call Doug at 705-687-2406 to help or donate.
---
YWCA Women and Art: Free Lunch and Painting with Nancy Hunter
Monday, November 7th. This class is filling up very quickly! Please call Judy at 705-687-2406 to register.
---
WISE Clubhouse for Seniors
The District of Muskoka's WISE Clubhouse for Seniors is generally held on the first Friday of each month. Ways to Stay Safe and Independent presented by Danielle
The goal of this class is to inform you about some of the tools and assistive devices available to help manage daily tasks, as well as how and where to get them. This is a great free program with a healthy lunch included. Do you have requests for future Clubhouses? Would you like crafts, line dancing, Zumba, games? Please call Emily at 705-645-2412 ext. 199.
---
Ryde Co-op Thanks!
The work crew from Beaver Creek did a tremendous amount of work, including the update of the Muriel Fitchett garden and planting the 1000 tulip bulbs that we won.
Ernest Merkley donated a truckload of soil for the tulips. The Co-op will be a showpiece next Spring.
Joan Clifford set up a book sale with the generous support of Gord McNeice of Scotiabank.
Cliff Fitchett and Richard Hearne completed an inspection of our septic tank. (All is well!)
Bruce Stephenson did a great job of cutting the grass at the Co-op.
Muskoka Brewery donated two gift baskets for silent auction at our October and November dinners.
The District of Muskoka's Pay It Forward grant provided funding for the purchase of our age-friendly tables to replace those heavy and too narrow hand-me-downs. We can now set up and dine in comfort.
Janis and Joan provided spooktacular decorations for our Oktoberfest dinner.


---
Diabetes Clinic at the Co-op
We have the opportunity to offer a Diabetes Clinic at the Ryde Co-op that would offer one-on-one consultation with a nurse and dietitian. The program would be offered through the Orillia Soldier's Memorial Hospital, and would be a satellite of the current program offered in Gravenhurst. In order for the service to be delivered to Ryde, we would need a minimum of seven people to sign up. If you feel that you would benefit from having this option close to home at the Ryde Co-op, please call Emily Elliott at 705-325-7611 to register.
---
Tai Chi and Qigong
Join Janet Wilcox on Thursdays from 10:30–11:30 am. New participants always welcome. No previous experience is necessary. The fee is $2 per session for members.
---
Music Night and Sing – a – long
Ryde members are invited to join us Saturday, Nov 5th from 7 – 9pm for an evening of great music. Bring your instrument or just come and enjoy. Families welcome. Admission by donation is for members only but new members are always welcome. Light refreshments available. Jams will usually be scheduled for the second Saturday of every month, but note for November we will be meeting on November 5th instead. For more information, please call Brian Gowanlock at 705-329-4010.
---
Upcoming Events
Bid Euchre – Every Wednesday at the RCC from 1 pm.
VON SMART Exercise program – Every Monday & Wednesday starting at 9:30 am. Note: in the event of school bus cancellations, there will be no SMART classes held that day.
Tai Chi and Qigong – Thursdays – 10:30 – 11:30 am – $2
WISE Seniors' Clubhouse – Nov 4th from 12:30 – 2:30 pm. Free lunch will be provided.
Ryde Knitters and Hookers – Fridays at Summerland – 10 am – $2
Ryde's Music Night & Sing-A-Long – Nov 5th – 7 to 9 pm. Admission by donation. Note change in date this month only
Turn your clocks back at midnight on November 5th!
Free Woman in Art Lunch & Workshop – Nov 7th at 10:30am
Soup and sandwich lunch 12:00pm & Christmas Bazaar – Nov. 13th
Facebook On-line auction – Nov 12th – 26th
Fundraising Progressive Dinner – Nov. 19th at 5:30pm –Tickets $35 from Scotiabank.
Blood Donor Clinic at Gravenhurst Community Center Nov 22nd – from 3pm – 7pm
Ryde Co-op Membership Meeting – Nov 23rd – 7 pm
Christmas Lunch Dec 15th at noon.


---
Community Notices
Holy Manger Anglican Church

Services will be held on the first & third Sunday of each month at 1 pm
Ryde Free Methodist Church

Remembrance Day Sunday Service on Nov. 6th at 11:00 am.  Mr. Bob Beach, who lives at the north end of Barkway Rd. will be here to play Amazing Grace on his harmonica accompanied by our musicians.
Summerland General Store

The November monthly $20 food basket order is due in cash on Nov 8th at 9 am and picked up on Nov 17th. Bring boxes or bags. Download schedule here.
The Ryder was brought to you this month by:
Arleigh Luckett – Signing As We Grow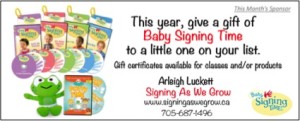 Please click image to enlarge